A year of UPSKILLS in Switzerland
From June 2022 to June 2023

This blog entry is a chronicle of how we refined our learning blocks, consolidated our local community and got some ideas on how to move forward after this conclusive year of the project.
In this post:
A summary of the Swiss multiplier events
Our latest news
Slides by presenters
Game files download
We had two goals in mind when we organized this event: get our audience to know what UPSKILLS is about and get feedback from our guests on our learning materials, didactic approach and guidelines. The event was held in hybrid mode for both the audience and the speakers.
The project and the needs analysis
Presentations by Stavros Assimakopoulos, Maja Miličević Petrović, Jelena Gledić
The needs analysis is the first output of our project and the basis that guided the creation of the learning materials. The needs analysis consists of five components and takes the reader from the explanation of the role played by language specialists in the job market to a detailed description of the skills and competences needed to be hired for a role of this type. The analysis outlines four different profiles at the intersection of language and tech, and if you wish to know which one suits you, move to the last session of this blog entry and see what the UNIBO team has prepared for you!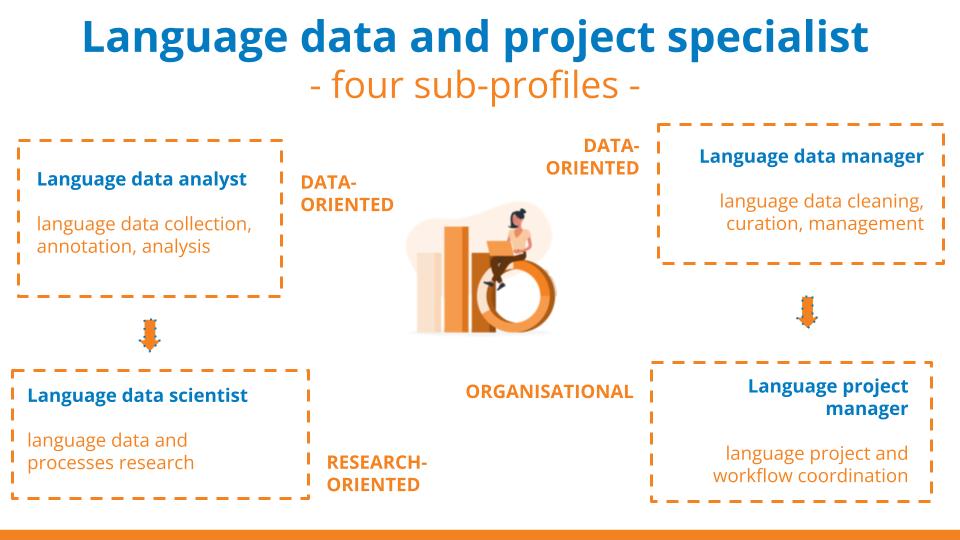 Figure 1. Linguists in tech profiles
The strength of the UPSKILLS needs analysis lies in its putting into words what many of us linguists in Academia already knew: language and linguistics students have a relatively restricted range of employment opportunities after graduation, often corresponding to editorial, translation or teaching jobs. But the needs analysis also shows a rich range of opportunities in tech which could become accessible to our students should the identified skill gap be addressed by the institutions. The analysis goes further and paves the way to this change by specifying the modules that curricula should integrate for these opportunities to materialize.
Panel discussion: what can we do?

Moderator Tanja Samardžić, University of Zurich UPSKILLS team; with Andrea Rocci, Samuel Läubli as invited speakers and Genoveva Puskas, Maja Miličević Petrović, Stavros Assimakopoulos and Jelena Gledić from the UPSKILLS consortium.
There are jobs, in the communication job market, for which linguists would be better qualified than the typical people who come from a faculty of communication. Linguists are better, generally speaking, at analytical thinking and at analytical jobs.
The next question that we faced is how to use the needs analysis to move forward. We tried to give it an answer in Lugano in the course of an interactive panel discussion between guests and members of the UPSKILLS consortium.
Prof. Andrea Rocci has an idea on how to proceed which is based on his own experience as Director of the Master program in European Studies in Investor Relations and Financial Communication (ESIR) offered jointly by his institution and the Università Cattolica (Milan). He thinks that a possible solution lies in the creation of interdisciplinary degrees, such as the one that he directs. Degrees of this kind allow language and linguistics students to enrich their background with skills that the companies wish to find in a candidate. As he says, the industry world is not interested in taking part in the design of courses that result in the creation of the type of candidates they sought to hire, but it is a world which is very open to hire candidates with a non-standard background. Companies suffer from the uniformity of thinking of their hires and candidates educated in the humanities who are also knowledgeable in a technical domain are the solution to this problem.
The same concept will come up again in Geneva in April 2023: companies want profiles that break the mold, but only as long as the burden of their formation will not fall upon them.
Thus, the convergence of interests shared by employers and universities requires the academic world to evolve and adapt to the job market at a pace which is unknown for most institutions and teachers. The UPSKILLS panelists agree on two short term solutions to speed up the change: at the teaching level, we need to discuss more the topic of students employability in order to eradicate certain taboos such as the necessity of teaching technical notions in the faculties of humanities; while at the institutional level, we should make a greater use of tools that already exist at the national level such as the Swiss Mobility program which allows students to take a modular, inter-university approach to their tertiary education.
Samuel Läubli tops it off by illustrating a paradox: in a world with a growing interest in topics like natural language processing and multilingualism, the number of language and linguistics students is declining. These academic fields need to renew their image and stop presenting themselves as costs to introduce the notion that language experts and linguists have a great potential to bring growth.
Samuel Läubli
Chief Technology Officer, Textshuttle
Tip for students:
Study plans are rigid, but many study plans have certain elements built into that give you a certain amount of flexibility. Knock at people's doors and ask, and you will find something that is tailored to your needs, that responds to your interests.
Download the presentations here:
"What is UPSKILLS? Welcome to the Second Swiss Multiplier Event", presenter: Genoveva Puskas.
"The UPSKILLS needs analysis", presenters: T. Samardžić, S. Assimakopoulos, M. Miličević Petrović & J. Gledić
"CLARIN & UPSKILLS", presenter: Iulianna Van der Lek
"CLARIN AND ITS SWISS NODE CLARIN CH: SUPPORTING RESEARCH", presenter: Cristina Grisot
"Breaking into industry with a non-STEM degree", presenter: Caterina Bonan
"A short presentation of the DSI Community Gaming", presenter: Hiloko Kato
"A brief overview of useful game development tools", presenter: Leyla Feiner
"Collecting data from human participants", presenters: Tihana Kraš & Marko Simonović
"Upskilling your Introduction to Language variation course", presenter: Margherita Pallottino
"The essence of machine learning for linguists in tech", presenter: Marie Berthouzoz
"Start programming with Python in 10 steps", presenter: Marie Berthouzoz