Learning Content & Research-Based Teaching
Student Project Showcase
Remembering Can Be Equally Easy in Both Your Languages
by Antonjela Antić and Lana Peulić
(University of Rijeka)
Can we remember the same amount of information if we read a text in our first language, compared to our second language?
That's what we were wondering as well, so we decided to find out! According to an earlier study, conducted by Heleen Vander Beken, Evy Woumans and Marc Brysbaert, if people only have to recognize whether something was mentioned in a text or not, they can perform equally well if the text was written in their first language or their second language. However, when it comes to remembering pieces of information without any cues, the second language can hinder the memory of what was mentioned in the text. 
Previous Research and Its Significance 
The participants of the above-mentioned study had to read a short expository text in their first language and their second language. After that, they had to do two tests. One test was a free recall test, which required them to write a summary of the text they just read, in the language they read it in. The other test was a recognition test, in which they had to answer true/false questions about the text. 
One issue we had with this study was the fact that it was built around something called the resource hypothesis. According to this hypothesis, as mentioned by Vander Beken, Woumans and Brysbaert, when you read something in your second language, your brain is busy with the process of understanding what is being said, which leaves it with little power to actually memorize the content. And even if this was true, the participants in the study weren't used to doing this since they were students of psychology and their courses were held in their native language; the last time they studied English was in high school. The authors of the study mention that their participants were regularly exposed to English media, without a good enough explanation of what "regularly" means. Either way, just because they were regularly exposed to English media doesn't necessarily mean that they also used English in their daily life, especially not to read, memorize and retain information. We believe that this is the reason why it was only natural that they would remember less in their second language compared to their first language. We wondered: what if we tested the resource hypothesis with people used to reading, remembering and retaining information from texts in their second language? This way we would lower the chances of their brains being busy with understanding the text in their second language, and the process of memorizing in their second language would resemble the process of memorizing in their first language. That is the reason why the participants of our study were English Language and Literature students from the University of Rijeka, Croatia. Not only were they used to reading and memorizing texts, but they were also used to doing it in English alongside Croatian, their first language.
By conducting our study, we believe that we have shed some more light on the processes of memorizing, retaining and retrieving information in one's second language. The significance of the study lies in showing how practice can help people remember more of the content written in their second language. This can be valuable to people who need to read, learn and remember information in a language that is not their mother tongue, such as primary, secondary and university students studying in the medium of their second language, foreign language teachers, but also professionals working in a second-language-speaking environment. 
Text Selection
For the purposes of our study, we first had to select the texts our participants' memory would be tested on. We decided on two short texts, one in Croatian and one in English. The texts were taken from a collection of theme-based texts for testing English as a foreign language. We edited both texts to fit our needs and translated one of them into Croatian. In order to make the texts as similar as possible, we decided on a common theme, which was water animals. The text in Croatian was about sea cucumbers and the one in English was about Florida gar (a type of fish). The texts were similar in length (the Croatian one was 307 words long, the English one 270 words long). Even though the number of words was not the same, we made sure the texts had the same number of ideas. More precisely, each text had thirty ideas which could have been remembered. 
Tests and Scoring
We used two tests for each text, of the same type that Vander Beken, Woumans and Brysbaert used in their study: a free recall (summary) test and a recognition (true/false) test. In order to score the results of our participants in the free recall text, we created a table for each text (Table 1 and Table 2), which contained ideas from the text, grouped into different categories. Each idea could bring our participants one point.
Table 2. Scoring table for "Florida gar"
Category of ideas

Idea

Number of points

Name of the fish

Florida gar

1

Place of occurrence

Everglades/(southern) Florida

1

Appearance

Sharp/needle-like teeth 

1

Long snout

1

(Dark) spots and/or patches on the body

1

Long and/or slender body

1

Primitive interlocking scales

1

Differs from most fish

1

Colour

Dark brown/darken with age

1

Olive

1

Yellow

1

Survival skills

Is predatory

1

Food

Schools of fish

1

Individual prey

1

Fish

1

Grass shrimp

1

Technique

Fast sideways snap of the jaw

1

Slow approach

1

Dry season period

Seen in large numbers

1

Have limited habitat

1

Prey to alligators 

1

Abilities

Dual ability to breath air and water

1

Rising to surface to renew swimming bladder air

1

Similarities and differences

Similar to needlefish

1

Differences: needlefish are…

Marine animals

1

Greenish

1

Bluish

1

Silvery

1

Translucent

1

Lighter in contrast to gars

1

Total number of points

30
The recognition test contained 30 statements (15 false and 15 true). Some were taken directly from the text, and some were slightly changed to become false. For example, "Florida gars have short snouts" is a false statement as, according to the text, these fish have long snouts. We also added four comparison statements. Those statements were designed to test whether the participants would be able to integrate ideas from the text. An example of such a statement is "In contrast to needlefish, Florida gars are of much lighter colour." This statement is false since the opposite is true, that is, needlefish are of much lighter colour. Therefore, in comparison statements, more than one idea was mentioned in the statement, and the ideas were compared to one another. Finally, we included four false memory statements, which contained a statement which was not mentioned in the text but was in some way related to the concepts within it. Such was the statement "It is mentioned in the text that Florida gars are also known under the name Florida gators and Florida shrimps." Nowhere in the text is it mentioned that Florida gars are known as Florida gators or Florida shrimps. However, it is mentioned that gars become prey for the alligators and that Florida gars eat grass shrimp. Naturally, all of the "false memory" statements were false because they combined two unrelated ideas from the text. For each correct answer, a participant would get one point. 
To check if our participants understood specific words which are not that common in English, we created a vocabulary test. It contained 11 questions, three short-answer ones and eight multiple-choice ones. In the multiple-choice questions, participants either had to pick the answer they believed was correct or choose a photo that fitted best with a description that was provided. For the short answer questions, they had to provide a synonym, translation, or description of a particular word, either in English or Croatian. Again, for each correct answer, a participant would get one point.
Distribution of the questionnaire and tests 
To make everyone's life easier, we decided to create our tests in Google Forms. In total, we had three separate forms because we did not want our participants to be able to return to the previous page and read the texts more than once. The forms were shared online via email and social networks. They took about 30 minutes to complete in total. 
The first form contained a description of the study and the procedure that was involved, which enabled potential participants to decide if they wanted to participate in the study or not. Underneath, there was a box to tick for those who understood all the information about the study that was given to them and were willing to take part in it (this is exactly what the sentence next to the box said). There was also a line for a code name, which the participants needed to invent, to enable us to keep track of their results. They had to write the same code in the other two forms as well. We also asked participants to provide some personal information, such as gender, age, native language and education. Lastly, the form contained the text in English, which the participants needed to read. 
The second form contained the free recall test and the recognition test as well as the vocabulary test. After completing all those tests, the participants had to read the text in Croatian. The third form differed from the second one in the fact that it did not contain a vocabulary test or a text to read. In addition, it included a section in which participants could leave a comment about the study.
Participants
By the end of our study, we had ten participants in total, one male and nine female, all of them English major students whose ages ranged from 22 to 25 years. Two of them were students from the University of Zagreb and the rest were students from the University of Rijeka. Only one participant was at the undergraduate while others were at the graduate level; three of them were attending the M.A. in Translation and others studied either German Language and Literature, Art History, History, Philosophy or Pedagogy alongside English Language and Literature. All the participants were Croatian native speakers; five of them listed only English as their second language and the other five listed German in addition to English. Most of them started learning English when they were seven years old, and only two participants started learning German before English, one between the ages of six and seven and the other at the age of four.
Results
For the vocabulary test, all our participants scored at least 80% of the test correctly, which indicated that they were all able to understand the text about Florida gar well enough to remember, retain and reproduce its content. Yay!
As for the results of the free recall test, the participants who scored more than half of the maximum number of points in the English test scored more than half of the maximum number of points in the Croatian test. The same was true for the participants who scored less than half of the maximum number of points in the English test. Three participants belonged to the first category and six to the second. Only one participant scored less than half of the maximum number of points in the English test and more than half of the maximum number of points in the Croatian test. All of this can be seen in Table 3. After calculating the p-value of our results, it was shown that the difference between the two means was statistically insignificant. Therefore, we cannot say that the participants recalled more in the Croatian test.
Table 3. Results of the English and Croatian free recall test
Participant 

Participant code name

Points in the English test

Points in the Croatian test

1

232689

1/30

7/30

2

Lily, Rosemary and the Jack of Hearts

21/30

19/30

3

141592

17/30

21/30

4

sir24

7/30

8/30

5

pudlica

14/30

9/30

6

2385

6/30

9/30

7

3723W

3/30

7/30

8

Noćna ptica

8/30

11/30

9

3612lu

20/30

27/30

10

Kkr8

5/30

18/30

Mean score

10/30

14/30
When it comes to the recognition test, Table 4 shows that six participants performed better in the English test, and one participant performed equally well on both tests (more precisely, they received 20 points in each test). This means that only three participants performed better in the Croatian test than in the English test. However, it can also be seen in the table that the mean group score for both the English and the Croatian test was 25 (out of 30), which was rather high. Again, the difference between the two mean scores is insignificant, and we can conclude that, on average, the participants performed equally well on both tests. 
Table 4. Results of the English and Croatian recognition test
Participant

Code name

Points – English test

Points – Croatian test

1

232689

20/30

20/30

2

Lily, Rosemary and the Jack of Hearts

30/30

26/30

3

141592

27/30

26/30

4

sir24

23/30

27/30

5

pudlica

25/30

24/30

6

2385

28/30

22/30

7

3723W

18/30

23/30

8

Noćna ptica

28/30

27/30

9

3612lu

29/30

28/30

10

Kkr8

25/30

24/30

Mean score

25/30

25/30
Interpretation of our results
The main conclusion that can be drawn from our study is that there isn't necessarily a difference between memorizing in one's first and second language. Since our participants were using both their first and their second language daily for memorizing, remembering and retaining information, we might conclude that there is no difference in memorizing between your first and second language once you are used to doing it and if you do this regularly. Do you remember the resource hypothesis which predicts that you can remember less of what is written in your second language because it takes more brain power just to understand it? Well, our results don't really support this hypothesis. On the contrary, they suggest that if you use your second language often and read texts in it regularly, you can remember information equally well in it as in your first language. 
So, if you're bilingual and use both of your languages regularly, the chances are that you will be almost equally good at memorizing information in your two languages. Pretty cool, right?
Conclusions
We believe that our findings highlight the importance of regular usage and practice, as well as that of the reading of texts in one's second language when it comes to improving the performance in memorizing, retaining and recalling information. Therefore, more reading of texts in the target language should be encouraged at all levels of formal and informal education. 
Our findings also suggest that it could be beneficial to use both free recall and recognition tests in schools to test students' memory. It is important for the students to work on their memory with and without cues. In that way, they are developing ways of expressing meaning, but also ways of interpreting it.
However, given that we didn't analyze the data statistically, we cannot actually be sure that what is true for the sample of participants that we tested would be true for the whole population. That is why we have to be cautious when drawing conclusions from our study. Another reason to be cautious is the low number of participants that we tested.  
For future research, apart from repeating the study with more participants, we would suggest looking into the relationship between the individual results of the summaries and of the true/false test, as well as the reasons behind the individual performance. Another suggestion would be to explore the differences between memorizing in one's second and third languages.
We hope that you enjoyed reading about our research as much as we enjoyed doing it!

Antonjela Antić
I'm 24 years old. I have a bachelor's degree in English Language and Literature as well as Pedagogy from the Faculty of Humanities and Social Sciences at the University of Rijeka, Croatia. I am currently continuing my education at the graduate level there. Even though I love Rijeka, where I have been living for six years now, I also love visiting my hometown, Selce, especially during the summer, since it is situated on the Adriatic coast. As for my hobbies, I mostly enjoy doing yoga, spending time in nature, watching movies and TV shows, and hanging out with my friends and family.
If you want to learn more about me, visit my LinkedIn profile.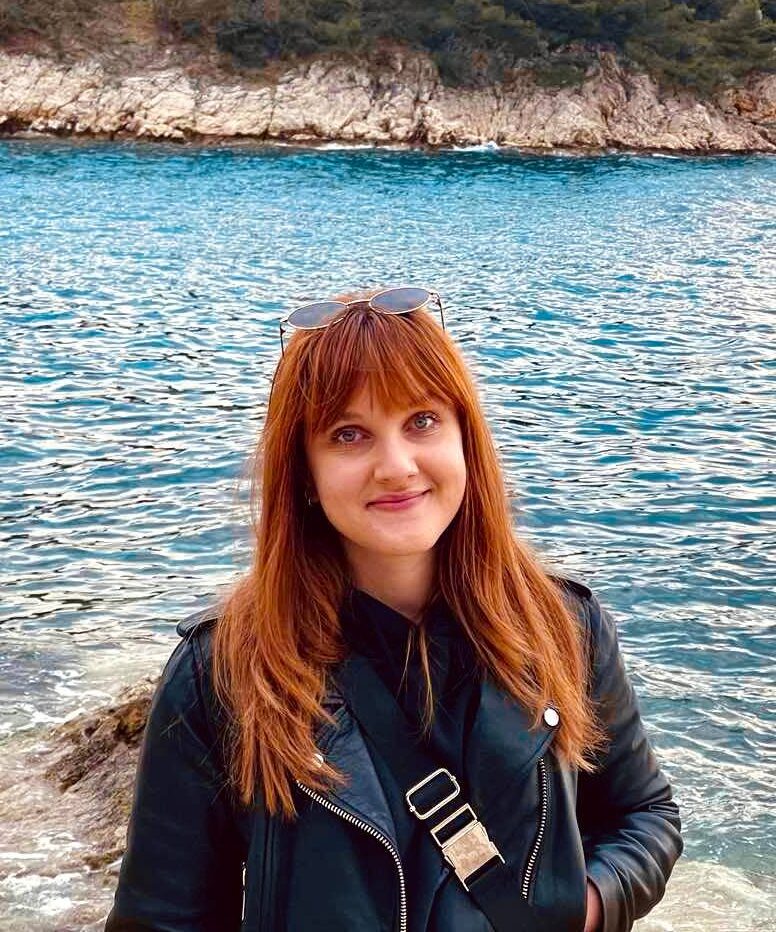 Lana Peulić
I come from a town called Sisak in the continental part of Croatia. For the past six years, I have been living in Rijeka, Croatia. I'm a graduate student of English Language and Literature and Pedagogy in the Faculty of Humanities and Social Sciences at the University of Rijeka. I love Rijeka and I wish to stay there after I graduate. I have always loved the seaside and I feel at home there. In my free time, I like to be in nature, walking my dog, going out with friends, but also relaxing at home, watching TV shows and exercising.